I paid a visit to the
Meiji Shrine
(Meiji Jingu) in Shibuya Tokyo. We rode the train into Tokyo and then got on the Yamanote loop at Shinagawa, taking it to the Harajuku station. I am not sure where Harajuku ends and Shibuya starts but its quite close to the station it seems.
The entrance to Meiji shrine is reached by that famous bridge in Harajuku where ever tourist goes to take photos of cosplay and sub-culture fashion. There were tons of tourists, but not so much fashion. Anyhow, I would feel too shy to ask someone for their photo #><# haha.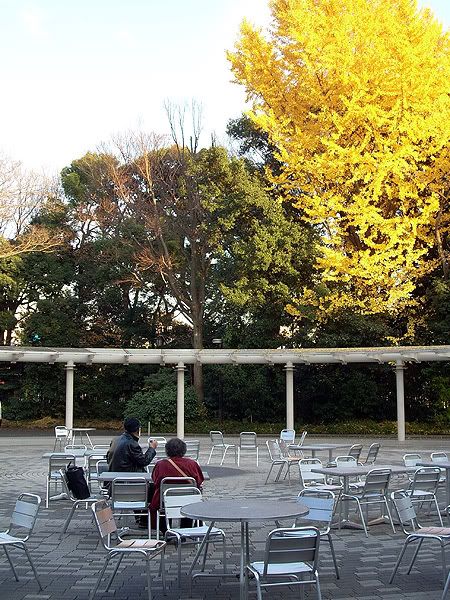 A lovely place to rest
The walk to the shrine itself is fairly long, but it's just a wonder how quickly you go from urban sprawl to tranquil forest! The lush trees all around you cut you off from the rush of city life, and the various torii, lanterns, sake barrels etc along the way make the walk interesting. There was a nice place to sit and have a snack or shop half way through.
When we reached the shrine, there were not so many people as there were around the entrance to the park. I was happy about that. The somber colors of the shrine building are a subtle camouflage to the intricacy of the architecture. I should have explored the small details more but the ex-bf was hot to get going.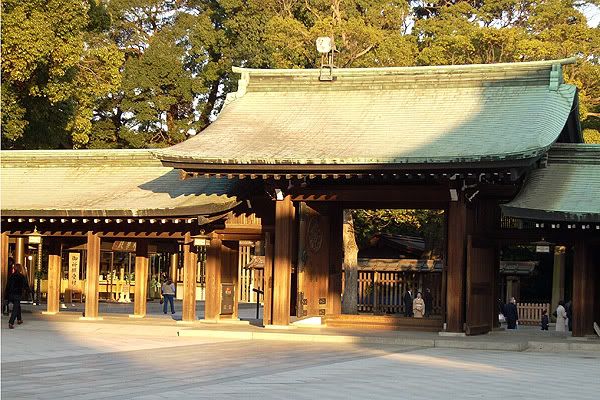 Part of the shrine
So we bought some fortunes, and I got the big luck fortune. Sadly it didn't seem that I got much luck haha. Well some luck and some bad luck. After I put my fortune carefully away in my bag, we went over to the Shrine itself and offered prayers.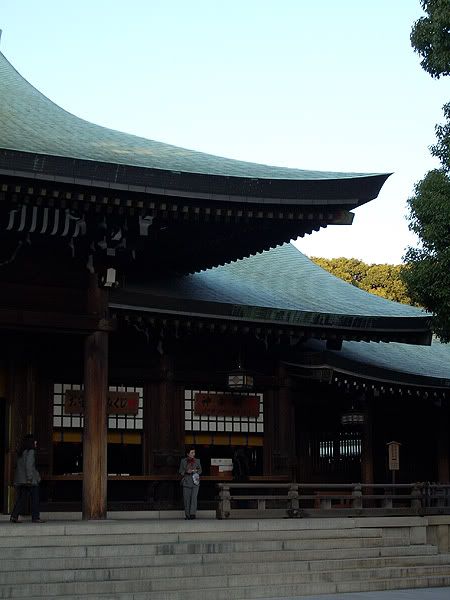 Part of the main building
I remember I prayed to return to Japan, and to meet my ex again. Haha, it came true, but not under the best circumstances XP After I finished he promptly told me I had prayed improperly, and I thanked him for teaching me how. I wonder if he understood my sarcasm.
After that we headed back out of the Meiji Shrine, back into Harajuku to explore some shops. It was getting dark, and for some reason all my photos came out really badly. So no Harajuku photos TT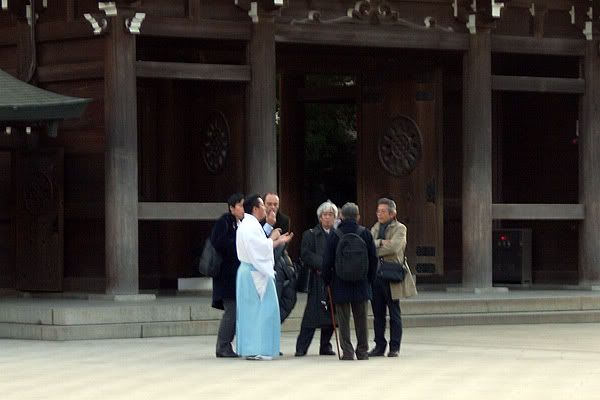 Priest and some visitors conversing